Premium South America in Depth
Booking Dates
06/21/2023 through 11/21/2023
Travel Dates
06/21/2023 through 12/26/2023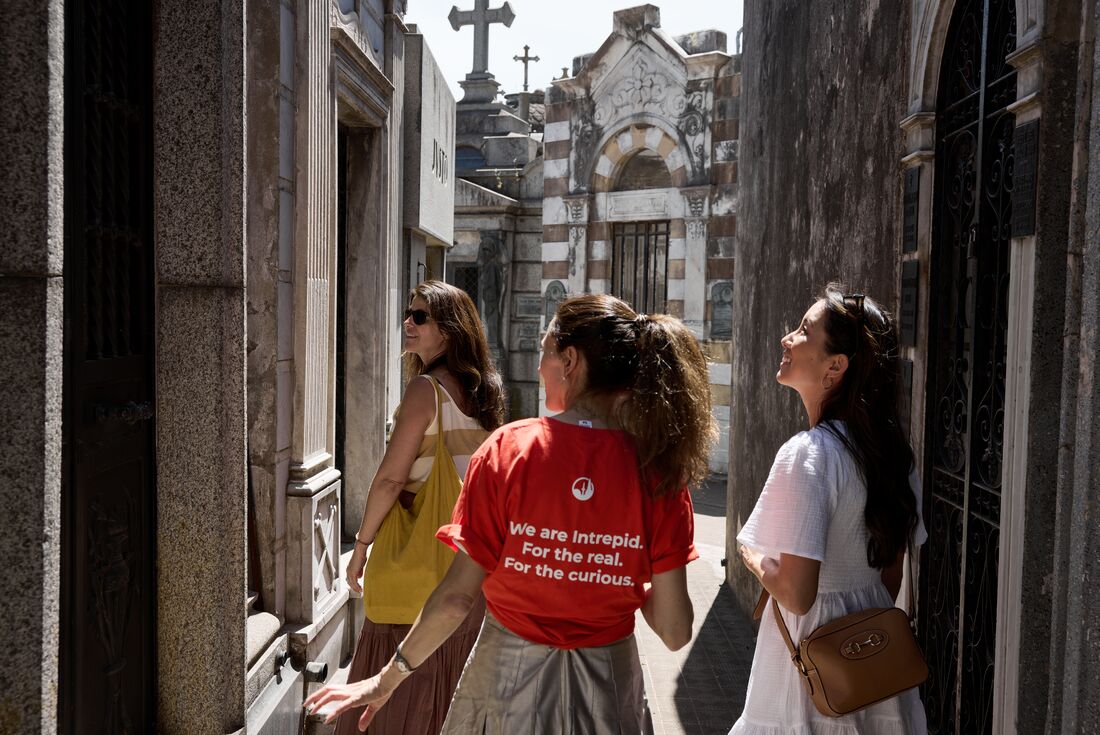 Premium South America in Depth

The very best of South America awaits on an immersive Premium adventure. In 33 unforgettable days you'll marvel at the landscapes of Colca Canyon, venture into the wild heart of the Amazon and stand in awe of Machu Picchu. Step out and stroll the inspiring streets of Santiago, sip the world's best wine in Mendoza, dine and dance with the locals in Buenos Aires, soak in the spectacle of Iguazu Falls then get swept up in the magic of Rio de Janeiro. Experience an unfiltered look at everyday life and enjoy expert local knowledge every step of the way.

Activities
Lima – Welcome Dinner
Complimentary Airport Arrival Transfer
Ica – Vineyard tour with a sommelier
Ica – Sunset drinks
Paracas – Ballestas Islands boat trip
Lima – Welcome Dinner
Complimentary Airport Arrival Transfer
Lima – Barranco walking tour
Arequipa – Leader-led orientation walk
Arequipa – Walking tour
Arequipa – Santa Catalina Monastery
Arequipa – San Ignacio Chapel
Arequipa – Basilica Cathedral of Arequipa
Colca Canyon – Viewpoint photo stop
Colca Canyon – Mirador Cruz del Condor
Puno – Sillustani archaeological site
Lake Titicaca – Floating Uros Islands & Taquile Island
Cusco – Leader-led orientation walk
Raqchi Inca Site, between Puno and Cuzco
Cusco – Cathedral tour with Specialist Historian Guide
Cusco – Coricancha Temple (entrance fee)
Cusco – Walking tour
Ollantaytambo – Archaeological site
Cusco – Sacsayhuaman
Sacred Valley – Community workshops visit
Sacred Valley – Home-cooked pachamanca lunch
Machu Picchu – Entrance & Guided visit
Ollantaytambo – 360 degree train to Aguas Calientes
Machu Picchu – Second visit
Amazon Jungle – Night boat tour
Amazon Jungle – Oxbow Lake
Amazon Jungle – Canopy Walkway
Amazon Jungle – Night jungle walk
Lima – Farewell Dinner
Complimentary Airport Arrival Transfer
Santiago – Welcome Dinner
Santiago – City tour
Santiago – Gourmet bodega lunch
Casablanca Valley – Winery tour and tasting
Valparaiso – Rooftop pisco sours
Valparaiso – Walking tour
Valparaiso – Chorrillana dinner
Valparaiso – Museum of Fine Arts (entrance fee)
Mendoza – Leader-led orientation walk
Mendoza – Tour of three wineries
Mendoza – Gourmet winery lunch
Buenos Aires – Leader-led orientation walk
Buenos Aires – Tigre Delta day trip
Buenos Aires – Home-cooked lunch
Complimentary Airport Arrival Transfer
Buenos Aires – Welcome Dinner
Buenos Aires – Tango demonstration by professional dancers
Buenos Aires – Tango lesson
Buenos Aires – City tour
Iguazu Falls – Tour of the Brazilian side of the falls
Iguazu Falls – Tour of the Argentinian side of the falls
Iguazu Falls – Guarani community visit
Rio de Janeiro – Leader-led Orientation Walk
Rio de Janeiro – Christ the Redeemer
Rio de Janeiro – City tour
Rio de Janeiro – Sugarloaf Mountain
Highlights
Get to know the real South America as you travel with a local leader, stay in a lodge run by the indigenous Ese Eja people, visit a local community in the Sacred Valley and interact with the Guarani community near Iguazu Falls.
Take your taste buds on a trip with Exclusive Experiences, including bodega tastings in Santiago, an expert-lead winery tour in Mendoza, lunch at the Gastromotiva social enterprise in Rio and home-cooked pachamanca lunch in the Sacred Valley.
Experience the best of each country with three fantastic Feature Stays. Enjoy a spectacular location next to the Colca River, sleep in a historical house in downtown Santiago and soak up Art Nouveau elegance in Buenos Aires.
Delight in a full day of wildlife activities in the Amazon, two guided visits to Machu, a boat tour uncovering the diverse wildlife of the Ballestas Islands and two days marvelling at the mighty Iguazu Falls.
Elevate your adventure with memorable Exclusive Experiences, including scenic 360 train journey to Machu Pichu, tango lesson in Buenos Aires and insider's day tour of the El Tigre Delta.
| Day | Description | View All |
| --- | --- | --- |
| Day 1 | Lima | Details |
| Day 2 | Ica | Details |
| Day 3 | Ica | Details |
| Day 4 | Lima | Details |
| Day 5 | Arequipa | Details |
| Day 6 | Arequipa | Details |
| Day 7 | Colca Canyon | Details |
| Day 8 | Lake Titicaca | Details |
| Day 9 | Lake Titicaca | Details |
| Day 10 | Cusco | Details |
| Day 11 | Cusco | Details |
| Day 12 | Ollantaytambo | Details |
| Day 13 | Aguas Calientes - Machu Picchu | Details |
| Day 14 | Cusco | Details |
| Day 15 | Amazon Jungle | Details |
| Day 16 | Amazon Jungle | Details |
| Day 17 | Lima | Details |
| Day 18 | Santiago | Details |
| Day 19 | Santiago | Details |
| Day 20 | Santiago | Details |
| Day 21 | Valparaiso | Details |
| Day 22 | Valparaiso | Details |
| Day 23 | Mendoza | Details |
| Day 24 | Mendoza | Details |
| Day 25 | Buenos Aires | Details |
| Day 26 | Buenos Aires | Details |
| Day 27 | Buenos Aires | Details |
| Day 28 | Buenos Aires | Details |
| Day 29 | Iguazu Falls - Brazilian side | Details |
| Day 30 | Iguazu Falls - Argentinian side | Details |
| Day 31 | Rio de Janeiro | Details |
| Day 32 | Rio de Janeiro | Details |
| Day 33 | Rio de Janeiro | Details |